A website linked to you. That's good, right? But how good?
Links are a factor in search rankings. Links create credibility and improve the likelihood that pages on your site will rank. But links are not equally weighed. Some are worthy of open-the-champagne celebrations. Others …are almost worthless.
This is a rundown of the top seven factors that determine the value of a link (aka link equity or "link juice") prioritized based on my best understanding and experience.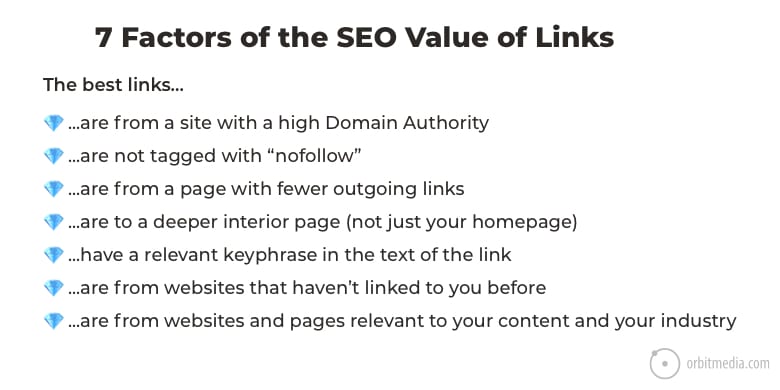 1. The authority of the linking website
Is the link on an authoritative website?
This is likely the biggest factor in the quality of a link.
Back in the day, it was called "PageRank." It's Google's own metric for determining the authority (credibility) of a website. Websites with better link popularity (higher quantity and quality of links) have higher PageRank and more authority. This is important in two ways:
It is the likelihood that pages on that website will rank
It is the value of a link from that website to another website
PageRank was measured on a 0-10 scale and it was shown in the Google Toolbar for any website you visited. Here's what it looked like:
Around 2012, Google stopped updating the PageRank data behind this toolbar. Then in 2016, it disappeared entirely. So today, SEOs use proxy metrics, created by SEO software companies, that emulate PageRank.
Their bots crawl the internet and track all the links to all the websites. Then they estimate the authority of every website on a 1-100 scale. Here's a list of SEO tools and the names for their respective metrics for authority:
Moz: Domain Authority
SEMrush: Domain Score
Alexa: Competitive Power
Ahrefs: Domain Rating
And here's what the reports look like within each tool:
Moz: Domain Authority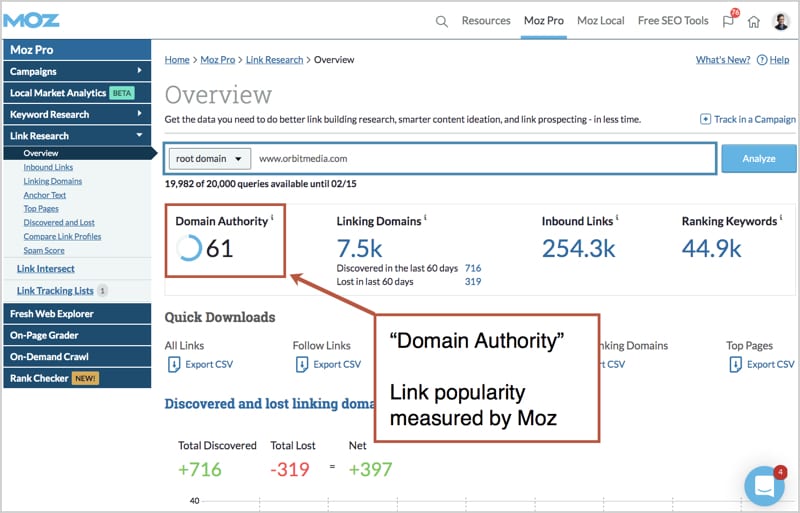 SEMRush: Domain Score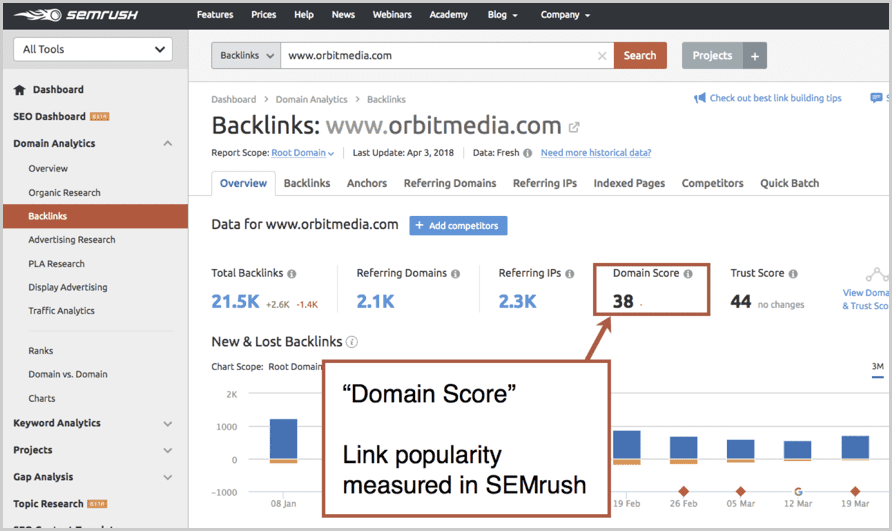 Alexa: Competitive Power

Ahrefs: Domain Rating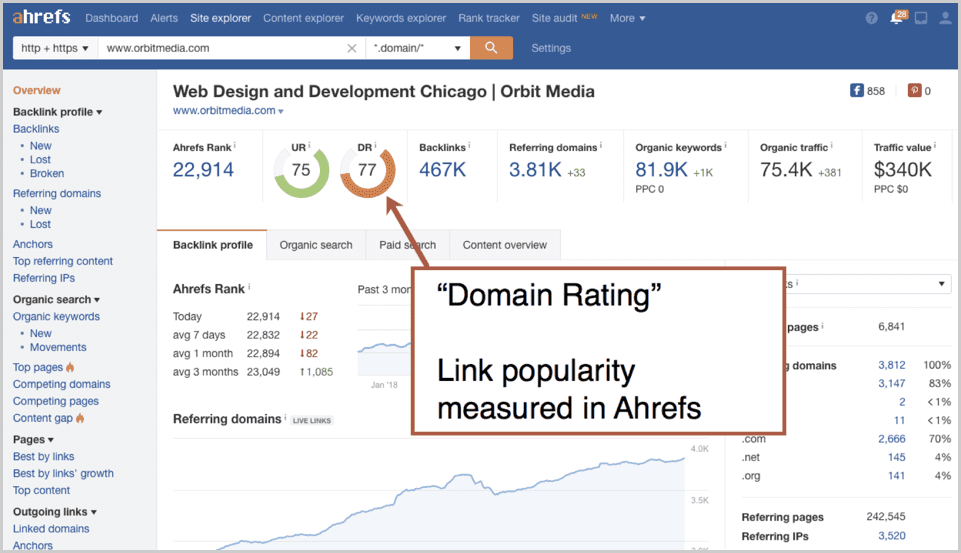 They are all basically the same, so use whichever you'd like! For a free version, you can install MozBar as a Chrome Extension, which allows you to see Domain Authority for any site you visit.
Related: Answers to the Top 11 Questions About Domain Authority
Some links from high authority websites don't count
Although they may appear on super authoritative websites (even sites with scores of 100 out of 100) these links are not valuable and don't affect your rankings.
Links from social media posts on social networks
Links from YouTube (youtube.com/user/yourcompany)
Links from press releases on PR sites (prnewswire.com/press-releases/announcement)
Links from forums (reddit.com/r/SEO/post)
Links from blogging platforms (randomblog.wordpress.com)
Here's why: these links appear on websites with billions of pages, each of which only enjoys only a tiny amount of the domain's overall authority. The actual URL where the link appears has very little authority, if any. Ultimately, it's the authority of the specific page that links, not the domain, that determines the value of that link.
Just imagine how much more spam you'd see on social media if links from social posts affected search rankings. That'd be bad.
2. The link is not "nofollow"
Does the link have the "nofollow" tag?
Some links are given a special tag that literally tells the search engine not to "click" on them, not to follow them and not to attribute value to them. When this tag appears on a link, the SEO value of that link is zero.
The "nofollow" parameter can be used in a meta tag for the page, the robots.txt file for the entire website, but usually it's added to a specific link.
<a href="www.website.com/page" rel="nofollow">click here</a>
Why would a website do this? To reduce spam. When "nofollow" was added to links in blog comments, comment spam dropped dramatically. When big publishers (including Forbes, Inc and Entrepreneur) added "nofollow" tags to links in articles, it stopped columnists from selling links in their articles.
This doesn't mean that a "nofollow" link is worthless. It may still get clicked and send visitors your way. There's more to life than SEO link value!
---
| | |
| --- | --- |
| | "In September 2019, Google added some new guidelines to the nofollow tag. Specifically, Google said that it would treat the nofollow attribute as a "hint" for ranking purposes, rather than ignoring those links. They said they can now look at link signals on an aggregate level to better identify spam so they don't have to rely solely on the nofollow tag anymore. No one knows the exact ramifications of this change, but one would have to imagine that the goal would be to have relevant links from important sites like Wikipedia carry some weight." |
---
3. The number of outgoing links on that page
Is the link on a page with dozens of outgoing links?
If so, this reduces the value of each link on the page. This is because every URL has a finite amount of authority it can pass to other websites through links. If an article links to 20 other websites, the value of each link is divided by 20.
So if you're included in a roundup of "101 Expert Jewelers' Tips for Cleaning Chains" and the link to your site is one of one hundred, then SEO value of that link isn't much.
4. The page on your site that it links to
Is the link to a deeper interior page on your site? And not just the homepage?
If so, that link is more valuable to your search rankings. Homepages are almost always the most linked-to, more authoritative page on a website. It's already got plenty of links. So never miss the chance to get a link to a deeper interior page.
SEO tools have reports that show which URLs are linked to how many times. They'll show you if you have a site that is top-heavy with links and authority.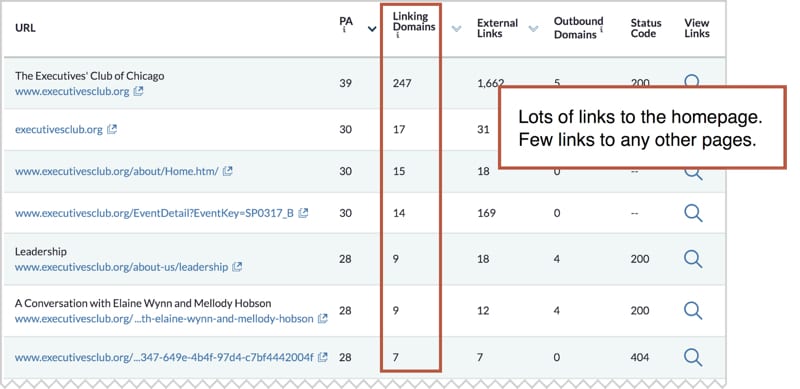 5. The text within the link
Does the link text contain a keyphrase?
Or does it just say "click here" or "read more" or the company name?
SEOs debate about this. For years, keyphrase-focused link text (aka "anchor text") was considered great for search rankings. Then it looked like too much of this was a bad thing, as sites with "over-optimized keyphrase-focused backlink profiles" were penalized.
Later, Googler John Mueller tweeted that it might be helpful:

For the record, studies show a low statistical correlation between keyphrases in link text and high rankings for that phrase. But my hunch is still that it's generally good when the text of the link includes a relevant phrase.
SEO tools have reports that show the link text within all the links to your website. They'll show you if you have a very low number of keyphrase-focused links. If so, a few more would likely be helpful.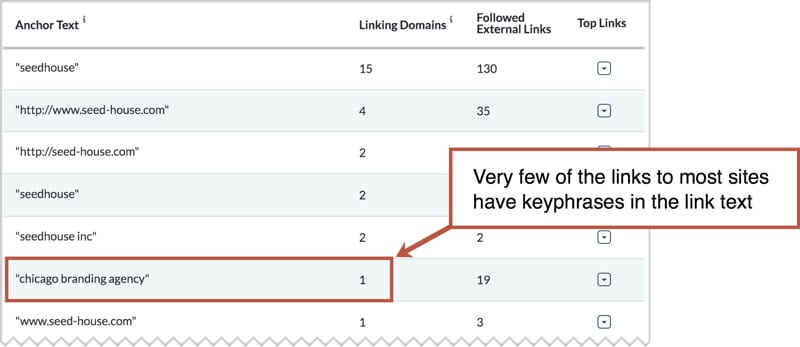 6. The diversity of the sources of links
Is the link from a site that has linked to you many times already?
If so, it is likely less valuable than a link from a website that has never linked to you before. When the same site links to you again and again, there is probably a point of diminishing returns and a diminishing value of those later links. As if Google says "I got it. Ok. This site likes you."
Here's a very unscientific chart that describes those diminishing returns (and the importance of a diverse source of links), an idea shared by a lot of SEOs.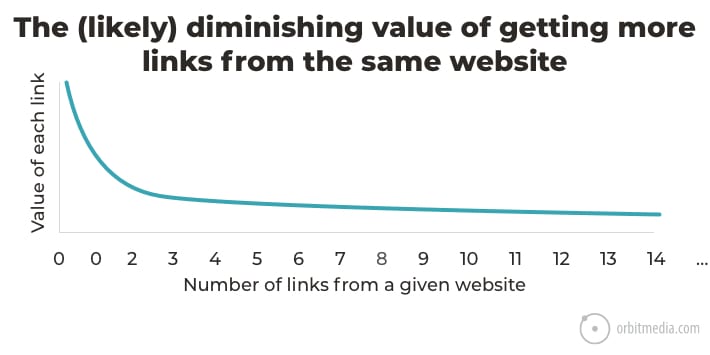 This is something to think about if you are considering becoming a columnist for a digital publication. Getting links shouldn't be the only reason you write a weekly column. That's a lot of effort for links from a single domain.
You're better off building relationships with lots of columnists, and use influencer marketing for SEO.
But remember, this is just one factor in the value of a link. If it checks other boxes (it's a keyphrase focused link to an important service page, deep in your website) then it may be a great link, even though it's from a site that link to you a dozen times already.
7. The relevance of the linking website
Is the link from a site relevant to your content or your industry?
If so, that's probably good. Most SEOs believe that links from unrelated blogs are less valuable. It's best to be known and mentioned by those in your neighborhood.
Other possible factors in SEO link quality …so they say
Ask a dozen SEOs and you'll get a dozen more answers. Here are a few you're likely to hear:
Is the link fresh? Or is an old link that's been around a while? Newer is better
Is the link within the body copy? Or is it within a sidebar or footer? Links within the editorial is better
Is the link on a page close to the root? Or is it in a sub-sub-sub-directory? Links on pages higher up in the URL structure hierarchy are better.
Is the link from a website with a spammy reputation? Links from sites considered to be spammy are bad.
And speaking of spam and negative factors…
Are some links bad for your rankings?
Short answer: probably not.
It is possible that some websites are seen as so spammy and toxic that a link from them could somehow hurt your website's credibility. And if a big percentage of your links come from these websites then you may be penalized.
There is a tool to disavow bad links and it tells Google that you have nothing to do with these shady characters. It's so unlikely that this is relevant to you that I'm hesitant even to mention it.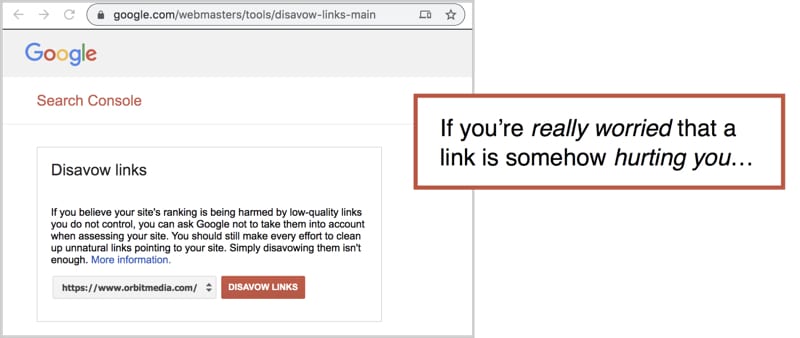 For the record, I've done SEO for 20 years and I've never clicked that button. Unless you've worked with a black hat SEO who bought links from a so-called private blog network and then were penalized, you don't need to click it either.
Final word about links, link value and link building
The best way to win links is to attract them organically. Create content worth linking to (original research is a great example) and build relationships with people who create content (bloggers, editors, journalists).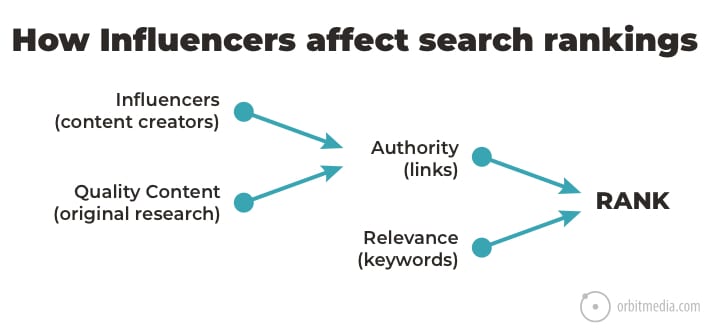 Write for everyone. Build a network of creators who contribute to each other's content. Set up an alert for your brand name and turn those mentions into links. Never miss the chance to earn a link to your website, but don't obsess over link building.
Anything you do purely for the sake of a link, without any consideration for humans, is spam.
The post What's That Link Worth? 7 Factors in Link Equity and the SEO Value of a Link appeared first on Orbit Media Studios.